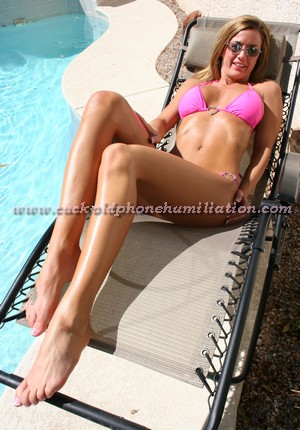 I love talking to my cuckold phone callers about their cuckold humiliation experiences! It's a huge turn on to hear the embarrassment in their voices as they describe the humiliating situations their wives or girlfriends inflict on them.
But more than half of my cuckold phone callers want to role play cuckold fantasies. Even real life cuck husbands would often rather role play a fantasy than talk about something that actually happened to them.
It's not surprising though because in fantasy you can tweak the all details and the dialogue as much as you want to make the scenario as intensely humiliating as you can handle. You can relive a situation where you were cuckolded and humiliated and make it the way you wish it had happened. You can role play a scenario including people and things, like family members, gang bangs, public humiliations, and so on, that might be almost impossible to make happen in real life.
I enjoy cuckold fantasies just as much as sharing real life experiences. With cuckold fantasies, I can let my imagination run wild and create a wickedly hot cuckold humiliation scene that's as exciting for the caller as it is for me. I have no limits and no taboos and I love exploring even the most intense cuckold humiliation scenarios with you.