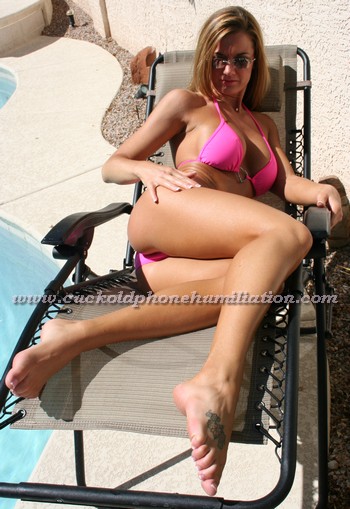 Hello cucky boy!  I am on vacation, staying with a friend in Florida — who is also a cuckold wife with an appreciation for the joys of cuckold humiliation —  and we have an amazing amount of fun planned for my visit. My friend is into young cock and we went out to a dance club on Saturday night with her 21 year old bull and a hot young friend of his. The dance club was fun but the hot sex between the four of us afterward was even more fun. Both of those guys have 8+ inch cocks and all the sexual stamina that goes with being 21 years old.
Even in the midst of that great sex, I didn't forget about my cuck hubby though. I decided to give him a special dose of long distance cuckold humiliation. So I called him right in the middle of the fun and left the phone line open so he'd hear his wife getting fucked. Unfortunately for him, his cuckold phone call didn't end the way most of yours do though because I locked him into a chastity cage before I left. Yes, I'm on vacation, getting great sex every day, and he can't even masturbate. All he could do was groan and suffer, stuffed inside that little cage, while he listened to me enjoying a big young cock like the humiliated cuckold he is. Locked up, teased, cuckolded and humiliated — and you wish you were him, don't you, cucky boy? :)
So I'm going to use this vacation to have a lot of great sexy fun, but I'm still taking cuckold phone calls when I can so be sure to call and I'll tell you everything I'm up to while I'm here.  In the meantime, I thought I'd tease you with a photo of your favorite sexy hot wife sunning herself out by the pool.