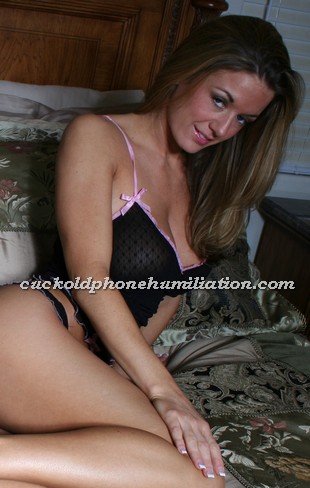 One thing I've learned from talking to my cuckold phone sex callers is how many men there are who desperately crave cuckold humiliation but can't get it.
It always amazes me when callers tell me that they've told their wives about their cuckold fantasies but their wives refuse to make them a reality.  I can't understand how any woman would not want the complete sexual freedom she would have as a cuckoldress.  The freedom to have sex with whoever she chooses and whenever she chooses. To enjoy sex with bigger and better cocks than the one she married.
But most of all, I don't understand why a woman wouldn't want to seize the  chance to transform her marriage by indulging his cuckold fantasies.  When you're a man's cuckoldress, you have him wrapped around your little finger.  A cuckold husband is an eager to please husband.
But those women who aren't into it themselves don't understand how anyone could want that kind of humiliation. They can't bring themselves to do it because they can't imagine how a man could possibly be aroused by being sexually humiliated.  There are so many variations when it comes to humiliating a cuckold.  The humiliation of being made to lick another man's cum out of his wife's pussy while she tells him how her big cock lover makes her cum so much harder than he ever could.  Or having her laughingly lock his cock into a chastity cage just before she goes out on a date with another man, threatening to give the key to the cage to her lover.  Or even just the humiliation of watching his wife's sexual pleasure as she's being fucked by a cock twice as big as his, knowing he could never give her that.
Yes, cuckold humiliation is real humiliation but that humiliation is a huge turn on for the cuck.   And it's a huge turn on for this cuckoldress too.  :)