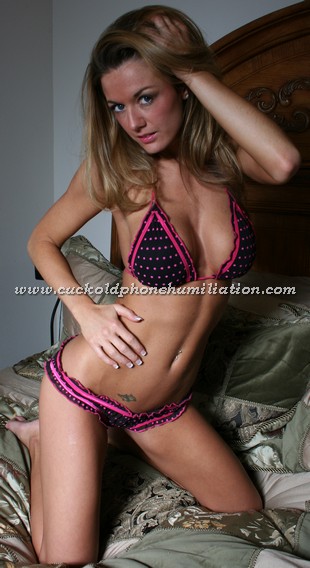 I got a new caller the other day and the first thing he said was "Is your cuckold phone sex line just for cucks?  What about bulls?"   Well, YES!  I love talking to bulls. If you know me, you know how much I love cuckold humiliation and every true bull I've ever known loves it too so we have a lot to talk about.
This particular bull who called me was actually very new to cuckolding and wanted to talk about his experiences and get some ideas and advice from an experienced cuckoldress.   He saw an ad on a sex personals site from a couple looking for a bull and even though he'd never heard of cuckolding before, he was instantly turned on by the thought of fucking another man's wife, especially right in front of him.  They specified in the ad that they wanted a well hung cuckold bull and since he had 8 inches of "qualifications", he replied to the ad.  Within two days, he'd discovered that he not only loved fucking another man's wife, but enjoyed taunting the small cock cuckold as well.
He said he got a special kick from watching the humiliated cuckold  immediately afterward, licking up his cum as it oozed out of her freshly fucked pussy.  He liked it so much that he'd been thinking about having the cuck clean him up afterward too next time and he wanted to know what I thought about that.  We ended up having a very hot conversation where I described to him in detail how much I enjoy forcing my cuckie's head down on the cock that just serviced me, not just to clean it up, but to also get it hard and ready to fuck me again.  I came as hard as he did during that conversation!
I think maybe I need to start advertising cuckold bull phone sex too.  :)