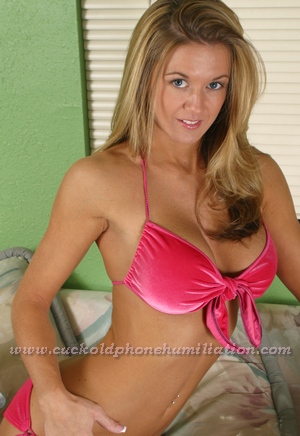 Cuckold phone sex. Tease and denial. If two things ever went together hand in hand, it's those two, don't you agree?
When your woman is cuckolding you, your whole relationship becomes an ongoing tease and denial. It's a tantalizing tease every time she goes shopping and brings home sexy lingerie that you know you'll never see her wear. Every time you watch her getting carefully dressed in a tight, low cut dress, thigh high stockings and sexy stiletto heels for an evening out, knowing she's meeting "him".   And the harshest tease — when you wake up to find her straddling your face, ordering you to lick her cum-filled pussy, while she describes every orgasm she had from a cock twice the size of yours.
Tease, tease, tease and it usually ends in denial.  Because she already has a well hung stud — or maybe more than one — who fucks her better than you ever could. So what interest could she have in sex with you?  But if she's like me, she probably does enjoy teasing your little cock into a frustrated frenzy and then giggling while you beg for a pity fuck.
I love tease and denial with my cuckold and I love it with my cuckold phone sex callers too.   I know how excited it makes you when I tell you about the great sex I get from my lover's big cock and the cuckold humiliation I inflict on my husband.   I'll keep that little cock of yours stiff and throbbing and on edge while you beg me to let you cum.  Maybe I'll let you.  Maybe I won't.  And even if I do, I'll probably make you do it in some humiliating way — maybe wearing panties or maybe jerking off into your own mouth.  But you'll love it anyway.  Because the more frustrating the tease and the more humiliating the denial, the harder you'll cum for me.  ;)