I oute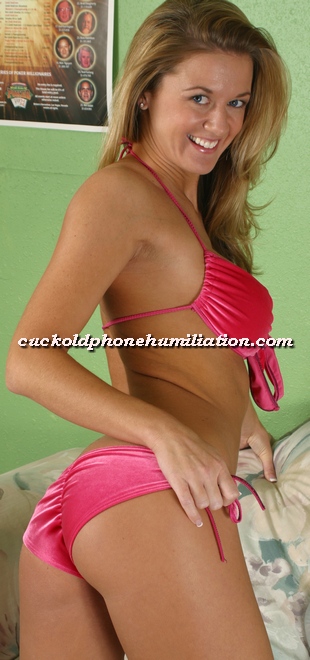 d another one of you cuckold humiliation addicts last week. I met a friend from my former job for drinks and she told me she was going to divorce her husband. When I asked why, Lisa told me she was so sexually frustrated that she couldn't take it anymore.
"Tim has a very small cock", she whispered to me. "Only about four inches. I can barely feel it inside me."
I asked her if she'd talked to him about her sexual frustration. "I did. But he doesn't get it at all. He acted like it was some kind of turn on for him! Started asking me about my old boyfriend who had a big cock. Jerome. Do you remember Jerome?"
Mmm, I was much better acquainted with Jerome and his last-all-night big black cock than she knew but I thought I'd better not mention that so I just nodded.
"Tim didn't seem to realize I was serious! He actually wanted to have sex! Well, not sex exactly. He said he wanted me to fuck myself with a big dildo and pretend I was fucking Jerome, while he watched me and masturbated.  What an ass! I told him I didn't want a dildo, I wanted a divorce."
I asked a few more questions and the more she told me the more sure I was that Tim was a prime candidate for cuckold humiliation and small cock humiliation.  I decided to tell her about me and my marriage.  She was amazed but fascinated when I explained her about how my husband and my cuckold phone callers get off on being cuckolded and humiliated.
"So you think Tim would be turned on if I was fucking other men?" she asked.
"I'm so sure I wouldn't be surprised if he isn't one of my cuckold phone sex callers.  But that's not the point.  It really doesn't matter if he's into it or not.  This is about YOU," I replied. "You need to get back to having great sex again.  You're going to go home tonight and tell him that from now on, things are going to be different.  That you're entitled to great sex and since his small cock couldn't provide it, he is now officially a cuckold husband with all the humiliation that entails. He can learn to get into it or you will divorce him."
"You're right," she said. "That's what I need to do.  But I haven't fucked anyone else yet, so he's not a real cuckold husband yet."
"He will be by the time you get home," I smiled.  "Did you know that Jerome works at the bar right down the street?"