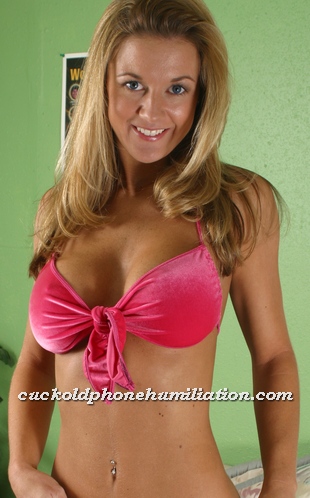 Hey, guys! As you probably already know, there are lots of different ways to be a cuckold.  And nearly all of  them are a form of humiliation, which is something we both appreciate, right?
One of those types of cuckold humiliation that I've been experimenting with more and more often with my cucky callers is the ownership of a sissy cuckold.  I have a few who are interested in feminization to go along with their cuckold fantasies, and I'm not the kind of girl to turn down an opportunity to humiliate a cuckold!
Obviously, being a cuckold is embarrassing all on its own, as is being a sissy.  But it's when you put the two together it can take cuckold humiliation to a whole new level.  And you know what?  I can absolutely get behind that.
I've been talking to my sissy cucks about how I'd first dress my humiliated cuckold up in something suitably embarrassing, like a sexy French maid's outfit.  Then, I have them clomp around my house in very impractical heels, getting everything ready for the arrival of my bull.  I might have them make dinner, put freshly-washed sheets on my bed (freshly-washed by my sissy maid, of course!), help me get dolled for the occasion, or any number of things, really.
When my bull comes over, my sissy cuck would answer the door and lets him in.  Sissy boy would be "letting him in" in other ways, too, but let's not get too ahead of ourselves just yet.
Sissy boy would also be a good little housewife who serves us dinner and drinks and does anything else we so desire.  And when time comes to head to the bedroom, it'll be my sissy cuckold leading the way like a good hostess.  Then, he'll sit back and watch what happens next.
My bull will be there for me, of course, but after he completely exhausts me, it's time for the next phase of cuckold humiliation.  For instance, there's a very good possibility that he would expect the other "woman"–and I do use this term very, very loosely–in the room to entertain him.  Starting with getting down between my legs and licking up the fresh cuckold creampie.  And then, cleaning HIM up too.  :)