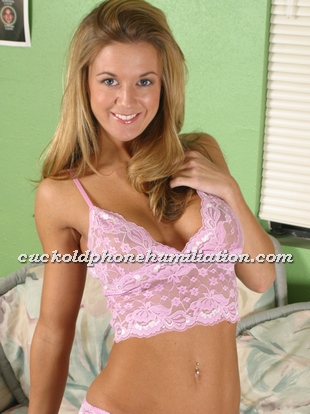 Hello, all my devoted cuckold humiliation addicts!  I haven't been blogging for a while but what can I say?  I'd rather be fucking big cocks or humiliating you on cuckold phone sex calls than writing in my blog.  But I know you cuckies love to hear about my sexy adventures and I do like to tease and titillate you so ……
One of the things I've done sometimes to humiliate my cuckold husband is make him place personal ads on sex sites saying he's a cuckold and looking for a well hung bull to fuck his wife.  You wouldn't believe how many replies he gets!  I read every one with him and pick out the most humiliating ones for him to reply to.  I make him reply explaining all the embarrassing details about our relationship, even including how I've made him lick my cum-filled pussy clean in front of the bull who just fucked me.
I make him exchange emails with a few of the bulls until I narrow it down to two or three that I like and then I make him go with me to meet and "interview" them.  Trust me when I say that sitting in a restaurant across from your wife, watching her flirt with a man who knows that getting her into bed depends a lot on how well he displays the kind of macho, husband-humiliating attitude she wants, can be pretty intense cuckold humiliation!  IF the guy is good at it, that is, and I always try to choose bulls that are.  There was this one really hot guy once who ……..
Haha, I told you I like to tease and titillate you!   I know you want to hear the rest of the story and  that's what cuckold phone sex calls are for.  :)  Call me and I'll tell you every dirty, humiliating detail!