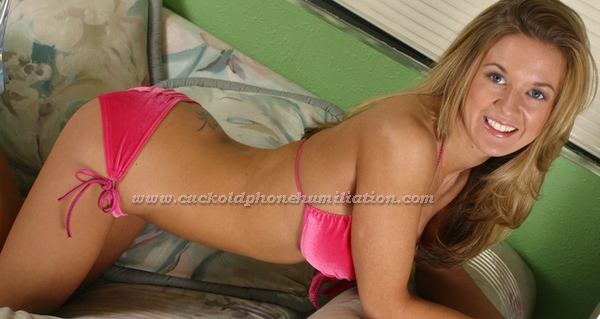 Being forced to recognize the inadequacy of your cock is an almost universal part of cuckold humiliation.  Having an average or big cock doesn't guarantee you won't be cuckolded but having a small cock pretty much guarantees that you will be.   And if you have an average or bigger cock and your woman cuckolds you, you'll have to deal with the fact that her lover will almost definitely have a bigger cock than yours.
One of my cuckold phone callers recently asked me, "The truth now. All that stuff about women wanting big cocks — that's all fantasy, right?  An average cock like mine gets the job done just fine, doesn't it?"  Ummm, no.  It's not a cuckold humiliation fantasy when I tell you that your "average" skinny 5 inch cock does not deliver the kind of sexual pleasure that a woman gets from a thick  7 or 8 inch cock.   You don't have to take my word for it.  Watch her when he's fucking her.  Look at her face while he's pumping that big thick rod into her.  You'll see a sexual ecstasy on her face that you never saw when you were fucking her.  Just because some chart told you that your cock size is average, don't think for a minute that you aren't a disappointment between the sheets compared to her larger cocked lovers.
At least you cucks with a really small cock have usually had enough experience with small cock humiliation that you know without a doubt how totally useless your puny pricklette is.  You've seen the looks on women's faces when you drop your pants and they get their first look at what you have — or should I say "don't have" — between your legs.  You've heard her ask "Is it in yet?" and blushed with embarrassment because you had to answer "yes".  You've looked at her secret collection of sex toys and can't help but notice that the dildos are all much larger than your tiny tool.
Does all that sound familiar?  I thought so.  :)  Let's talk and we'll relive all your shameful moments of cuckold humiliation.