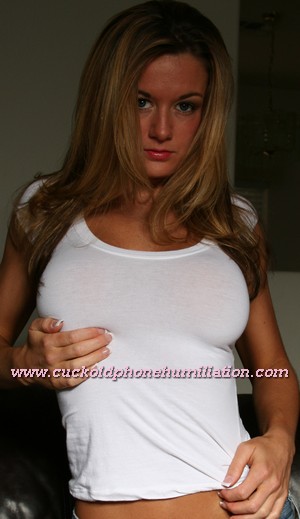 I get lots of cuckold phone sex calls where I can dish out cuckold humiliation but I've never had one before where I could talk to the cuck as we both listened to his wife with her lover.
It wasn't a fantasy or role play. This cuckold husband called me and told me that his wife was about to cuckold him for the first time. They'd been married for several years and he was always aware that his wife was sexually frustrated by his small cock. Over the years, he became more and more fascinated by cuckolding. He talked to her many times about it but it took him a few years to convince her that he really did want her to cuckold him with a big cock lover. So she connected with a well hung stud through a sex personals site. That night, she met him in person, was very attracted to him and called her husband — my caller — and told him they were going to a hotel.
He was sitting at home, excited at the thought of her fucking another man and getting the big cock she deserved but also beginning to understand what it is to be cuckolded and humiliated and called me to talk about it. He got plenty more cuckold humiliation from me. I taunted him about his inadequate cock and gave him my opinion that his life was about to change forever. This would be just the first of many nights he'd be sitting alone at home, while some other well endowed man gave his wife the pleasure he couldn't. That she was probably enjoying that big cock right then as we spoke.
The more I talked, the more agitated he got. Finally he couldn't stand it anymore and called his wife on his cell phone while I listened. I could hear her voice — the breathy, satisfied sound of a woman being pleasured right at that moment. I could hear the grunts of a man in the background. She kept telling her newly cuckolded husband she had to go and they'd talk later but he wouldn't hang up. Then she stopped talking but we could both still hear her, panting and gasping, obviously being fucked, and finally letting out a hot passionate scream of her lover's name as an orgasm hit her.
What about you? Is your wife cuckolding you? Are you having conflicted feelings about it too? You should call my cuckold phone sex line so you can talk about the reality of cuckold humiliation with someone like me who "gets it".